History
Institute of Process Engineering, Chinese Academy of Sciences (IPE-CAS) (formerly named the Institute of Chemical Metallurgy, Chinese Academy of Sciences, ICM-CAS) was founded on 1 Oct, 1958 by chemical metallurgist Chu-phay Yap. The present director is Prof. ZHANG Suojiang.
For over half a century since its foundation, the institute has extended the research fields from chemical metallurgy to process engineering, involving energy chemical engineering, biochemical engineering, material chemical engineering, resources and environment engineering areas.
Process industries, occupied 16.2% of GDP and 37% of industry product, provide material base for national development. IPE is dedicated to process engineering research that serves all process industries, undertaking the mission to develop clean and efficient technologies and equipment in conversion of substances through fundamental studies, system integration and technological innovation.
Strategic Planning
Focusing on the national strategic demands and frontier science and technology, IPE will follow the strategic plan, known as "1-3-5" program (the program encourages institutes to focus on areas of competitive advantage while reducing overlap with other institutions in order to save resources) to explore new system and mechanism adapting to the development of process and engineering and achieve the goal of"supporting process industrial technology innovation and leading the frontier science of process industry".
Research
A series of core technology were generated in fluidized bed, hydrometallurgy, coal topping, decoupling combustion, solid state fermentation, bio-media, nano-technology, unconventional green process and large multi-scale computing and modeling platform.
On Nov 30, 2013 IPE had 1176 research and development achievements, and won 273 awards at the international, national and CAS levels, including 4 international prizes in the areas of multi-scale simulation of multi-phase complex systems, integrated cleaner production technology for hydrometallurgical processes, demonstration project of integrated utilization of straw, ionic liquids and cleaner energy, comprehensive utilization of coal topping, the integration technology of nano/macro-structured ceramic protection coating for the steel billet at high temperature and preparation and application of size-controlled microspheres and microcapsules. 28 of them were from the three top-notch national prizes.
Facts and Figures
Laboratories
IPE has National Key Laboratory of Biochemical Engineering, State Key laboratory of Multiphase Complex Systems, National Engineering Laboratory for Hydrometallurgical Cleaner Production Technology, National Engineering Research Center for Biotechnology (Beijing), Beijing Key Laboratory of Liquids Cleaning Process and Beijing Key Laboratory of Biomass Refining Engineering.
Personnel
On Nov 30, 2013 IPE employed a total of 564 staff, of whom 458 were scientists, representing 81.2% of the total number of employees. There were 3 CAS and 1 Chinese Academy of Engineering (CAE) academicians, 60 professors and 192 associate professors. Additionally, as of Nov 30, 2013 there were 246 students working for PhD degree and 181 students working for master degree.
As of Nov 30, 2013, 2 persons were selected to National High-level Overseas Talents Program (National 1000 Talents Program), 10 were granted by the National Natural Science Foundation for the Distinguished Young Scholars of China, 3 chief of Major State Basic Research Development Program of China (973 Program), 3 were selected to National 1000 Talents Program for Young Scholars and 20 were selected to CAS 100 Talent Program.
International Cooperation
IPE has established wide contact and cooperation relationship with the international academic circles and signed cooperation agreements with the world-class universities and companies like Cambridge and GE. Joint R&D Centers were also established.
Many of IPE's leading scientists assume important positions in research organizations internationally. IPE has hosted or participated in the organization of a number of symposia involving international participation, while its researchers chair or cochair international conferences worldwide. Professor Lothar Reh, the laureate of CAS International S&T Cooperation Award of 2007 and State Friendship Award 2008, has been working closely with IPE for more than 20 years.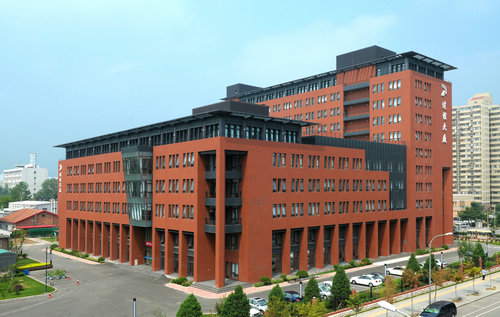 Landmark of IPE New Park-IPE Mansion