The Institute of Process Engineering (IPE), Chinese Academy of Sciences (CAS), previously known as the Institute of Chemical Metallurgy (ICM) was founded on October 1, 1958 and renamed as IPE in 2001. Over the past 60 years, its research objective has been broadened from chemical metallurgy to process engineering, including energy, bio-chemical engineering, materials, and green and environmental engineering.
Process industries, accounting for 16.2% of GDP and 37% of industrial output, provide material basis for national development. As a common discipline that serves all process industries, process engineering is primarily concerned with flow, transport and reaction of substances under chemical, physical and/or biological conversion and is also related to the recently-established fields of biotechnology, nano-technology, etc. To identify and resolve the common technical bottleneck problems curbing process industries, IPE strives to develop clean and efficient technologies and equipment for converting substances through fundamental studies, system integration and technological innovation. Now it has generated a series of core technologies in fluidized bed, hydrometallurgy, coal topping, decoupling combustion, solid state fermentation, bio-media, nano-technology, unconventional green process, and large multi-scale computing and modeling platform. Since its founding, IPE has made 538 scientific achievements, and has won 422 awards at international, national, and provincial/ministerial levels, which include 4 international awards and 36 top national awards.
At present, IPE has established three R&D bases. The Zhongguancun Headquarter focuses on the fundamental research and original innovations, Langfang Branch promotes the transformation of scientific achievements and supports experimental certification, and Zhengzhou Branch carries out demonstration projects to promote industrial applications. The institute has four national R&D platforms (the State Key Lab of Biochemical Engineering, the State Key Lab of Multiphase Complex Systems, the National Engineering Lab for Hydrometallurgical Cleaner Production Technology and the National Engineering Research Center for Biochemical Technology in Beijing) and six provincial/ministerial level R&D platforms.
IPE has a high-level research team of more than 1800 staff members. Among them, 5 are CAS and CAE members, over 400 are senior professionals. Young researchers under the age of 35 account for 46% of the entire staff team.
IPE is one of the earliest institutes in China to grant the doctor's and master's degrees, and has one of the earliest postdoctoral flow stations. It has 3 first-level disciplines authorized to offer doctor's degrees (chemical engineering and technology, environmental science and technology, and materials science and technology) and 7 second-level disciplines (chemical engineering, chemical process, biochemical engineering, applied chemistry, environmental engineering, environmental science, and materials science). More than 1400 students have gained doctoral and master degrees in IPE, accounting for a large number of high-end talents for the related fields from both home and abroad.
The current director is Prof. Suojiang Zhang, a CAS academician. The previous directors of the institute include Prof. Chuphay Yap, CAS academician and founder of ICM; Prof. Mooson Kwauk, CAS academician; Prof. Zhihong Xu; Prof. Yusheng Xie; Prof. Jinghai Li, CAS academician, and Prof. Huizhou Liu.
IPE always attaches great importance to international science and technology cooperation. In the past five years, more than 2000 foreign scientists have visited the institute and about 800 staffs and postgraduate students have been sent abroad to attend international conferences or conduct academic exchanges. Particularly, in 2008 and 2015, two of the scientists who cooperated closely with IPE for many years won the Friendship Award of China and the Science and Technology Award of China.
Today, IPE has established partnerships with many world renowned universities and institutions and signed cooperation agreements or memorandum of understanding with them. Meanwhile, under the joint students training agreements with the University of Adelaide and the Technical University of Denmark, IPE has recruited many graduate students to this program, which opens a window for comprehensive cooperation with each side.
IPE also takes a proactive role in expanding its channels for international cooperation, and makes great efforts in exploring a new model of international cooperation and transforming scientific and technological achievement into industrial outcomes. IPE currently has successfully implemented research projects with a number of fortune-500 enterprises.
In 2013, CAS-TWAS Center of Excellence for Green Technology was established in IPE, which was one of the five Excellent CAS-TWAS Centers in China. Based on this center, IPE established green technology innovation cooperation bases in Thailand, Myanmar, Cambodia, Saudi Arabia and other "The Belt and Road" countries.
Despite challenges, IPE expects to do better due to its legacy, culture and efforts.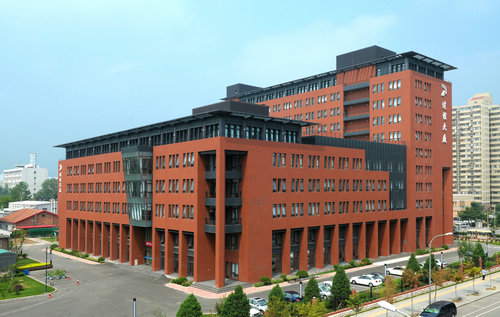 Landmark of IPE New Park-IPE Mansion