Coronavirus disease 19 (COVID-19) caused by SARS-CoV-2 is spreading all over the world. Exploiting the immunogenicity of the existing formulations for safe and efficient vaccines is regarded as the optimal solution.
To improve the immune responses, adjuvants are typically demanded for most vaccine formulations. Aluminum salts (termed as "Alum") is still the sole employed adjuvant in most countries. However, it suffers from the limited T-cell-mediated immune responses.
Researchers from the Institute of Process Engineering (IPE), Institute of Microbiology, and Beijing Institute of Life Science of the Chinese Academy of Sciences developed a novel strategy for adjuvant based on particulate Alum Pickering emulsion, which enhances the performance of SARS-CoV-2 vaccine.
This work was published in Advanced Materials on August 30 (DOI:10.1002/adma.202004210).
The researchers packed the alum on the squalene/water interphase, forming an alum-stabilized Pickering emulsion. The microgel nature of Alum confers PAPE with high stability for long-time storage and transportation.
Experiment results showed that the alum-packed oil/water interphase increased the cellular affinity for potent internalization, activation and cross-presentation of the antigen-presenting cells (APCs), thus stimulating potent humoral and cellular response.
With the dense array of Alum microgel on the oil/water interphase, PAPE not only adsorbed large quantities of SARS-CoV-2 antigens, but also harbored a higher affinity for robust APC uptake.
After cellular uptake, the positive-charged surface of PAPE induced the rupture of the lysosomes, and provoked the cross-presentation of the delivered antigens.
Compared with Alum-treated groups, more than six times higher antigen-specific antibody titer and three-fold more IFN-γ-secreting T cells were elicited, indicating the potent humoral and cellular immune activations against SARS-CoV-2 infections.
"Based on clinically approved Alum gel and squalene, PAPE exhibited a good biosafety profile. No signs of side effects were manifested with respect to the immunopathology in the serum as well as the vaccine-associated tissue damage," said Dr. XIA Yufei, a co-corresponding author of the study.
"It is also worth-noting that the above evaluations were conducted as a preliminary test to demonstrate the enhanced adjuvanticity and safety of PAPE. Although our data, along with the current literatures, suggested the limited side effects at the current Alum dosages, serious evaluations on the dosage and side effects, such as clinical equivalent dosage and neurotoxicity of the aluminum, should also be conducted on larger animals for more detailed safety evaluations," said Prof. MA Guanghui, who led this research.
Based on particulate emulsion techniques, Prof MA's group have designed and fabricated a variety of particulate vaccine adjuvants in influenza, enterovirus, SARS-CoV-2 and cancer vaccines.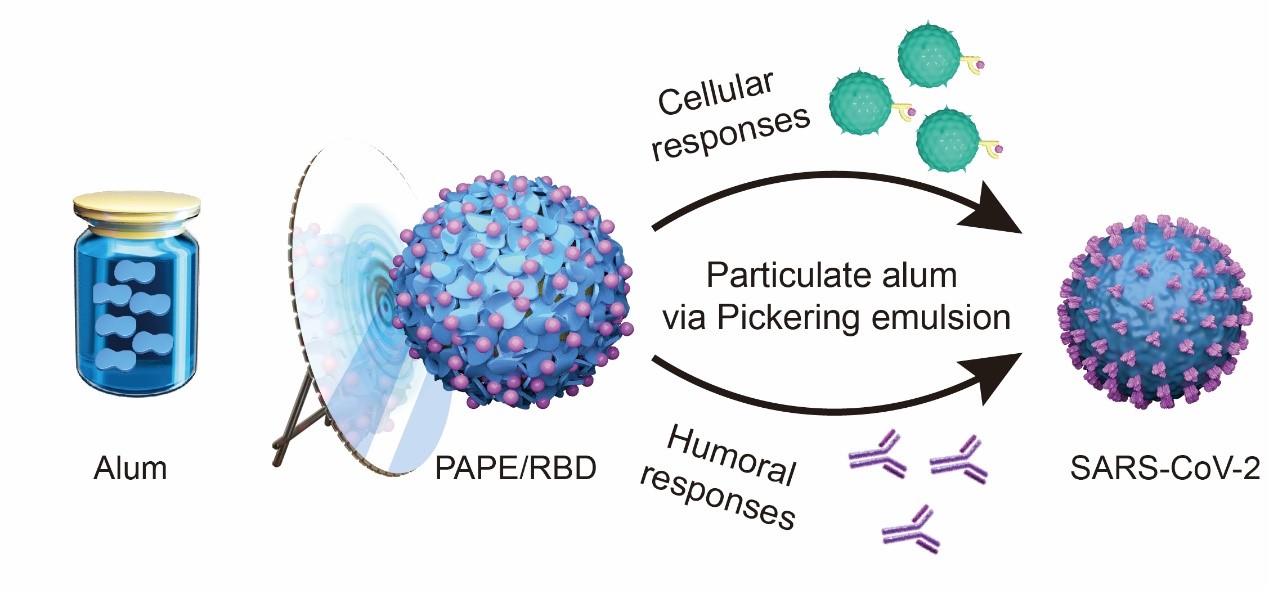 Potent SARS-CoV-2 vaccine adjuvant based on alum-stabilized Pickering emulsion (Image by XIA Yufei)
Media Contact:
LI Xiangyu
Public Information Officer
Institute of Process Engineering, Chinese Academy of Sciences, Beijing 100190, P. R. China.
E-mail: xiangyuli@ipe.ac.cn
Tel: 86-10-82544826