Prof. Richard Catlow's group paid a visit to the Institute of Process Engineering (IPE) of Chinese Academy of Sciences (CAS) at the invitation of Prof. LI Jinghai on May 22nd, 2019.
Richard Catlow is a professor of University of College London and Cardiff University, as well as the Foreign Secretary and Vice-President of the Royal Society in UK. He is also the vice-president of European Academies Science Advice Council and Co-Chair of Inter-Academy Partnership (IAP) for Research.
Prof. Richard Catlow delivered a report at IPE during his visit. The report attracted scientists and graduate students not only from IPE but also from other institutes of CAS. More than 200 people attended the meeting.
The title of this report was "Building Models with High Performance Computing". Prof. Richard Catlow shared his academic career and scientific achievement with the audience by PPT and videos. His talk covers a wide range of research areas including galaxy formation, ocean and climate change, protein structure based drug development, inorganic material structure and properties and even chemical reactions. With the development of advanced molecular models and high performance computing, the structure and dynamic evolution can be accurately predicted, which can further help our understanding of the scientific fundamentals of the origin of the world, the human body and the development of new materials.
The audience had a heated discussion with Prof. Richard Catlow in the end of the report. His work provides solid basis for further computational and theoretical study of biomolecular systems and inorganic nano-materials.
Prof. Richard Catlow's group visited the Virtual Process Engineering Platform of IPE after the report. Advanced facilities in IPE impressed them greatly.
Richard Catlow has worked for over thirty years in the field of computational and experimental studies of complex inorganic materials. His group has pioneered a wide range of applications of computational techniques in solid state chemistry to systems and problems including microporous and oxide catalysts, ionic conductors, electronic ceramics and silicate minerals. This applications program has been supported by technique and code development, including recent work on embedded cluster methodologies for application to the study of catalytic reactions. The computational work has been firmly linked with experimental studies, using both neutron scattering and synchrotron radiation techniques, where the Royal Institute group has also made notable contributions to development as well as application studies. Professor Catlow's research has led to over 800 publications, and in 2004 he was elected to Fellowship of the Royal Society for 'pioneering the development and application of computer modeling in solid state and materials chemistry.
Fig1 Prof. Richard Catlow delivered a report (Photo by LI Xiangyu)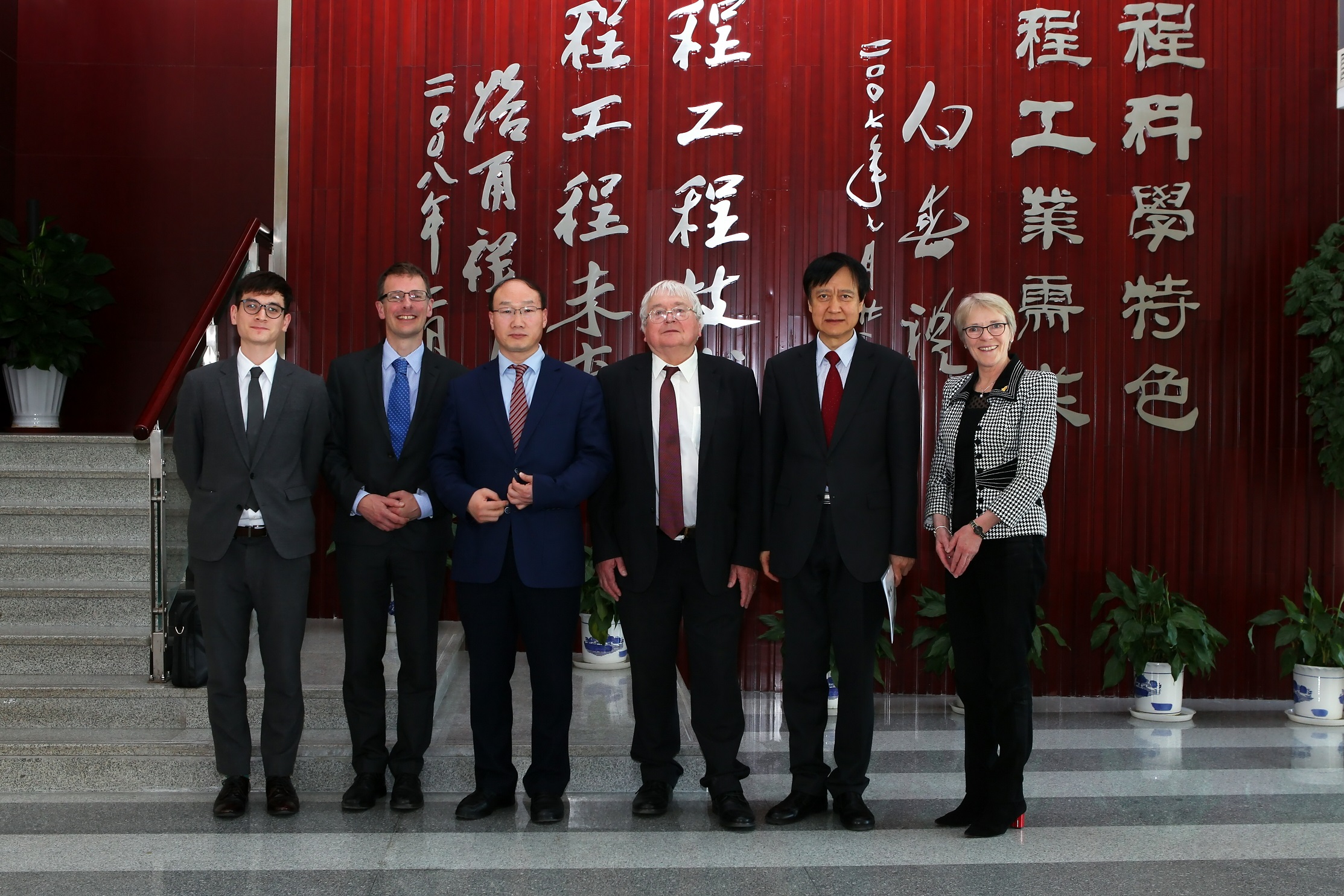 Fig2 Group Photo (Photo by HE Xianfeng)
Fig3 Prof. Richard Catlow's group visited VPE Platform (Photo by HE Xianfeng)