On the morning of May 25, 2012, a delegation of 24 people from the Chinese Academy of Sciences, led by President Bai Chunli, visited the Wako campus of RIKEN. Their visit was part of a series of events to commemorate the thirtieth anniversary of the launch of research cooperation between RIKEN and the Chinese Academy of Sciences in 1982, soon after the normalization of diplomatic relations between Japan and China. During those three decades, the two organizations have conducted active joint research and personnel exchanges in a wide variety of fields, including particle accelerator science and nuclear physics, cosmic rays using a large-scale neutron detector, and natural biological materials. So far, a total of 1,000 researchers have participated in exchanges of personnel between the two organizations. In December 2011, RIKEN President Ryoji Noyori received the great honor of being selected as a foreign member of the Chinese Academy of Sciences.
Following a welcoming address from President Noyori, the members of the two institutions exchanged opinions on their management, human resource development programs, and future research cooperation. The two sides confirmed their intention to take this opportunity of three decades of cooperation to further strengthen research and personnel exchanges. A tree planting ceremony was also held to commemorate the partnership.
The Chinese Academy of Sciences, established in November 1949, is China's leading research institution in the natural sciences. In addition to scientific research, it is also China's leading advisory body in the field of science and technology. It has more than 50,000 personnel working at 12 branch offices and 117 institutes.
(Source: RIKEN)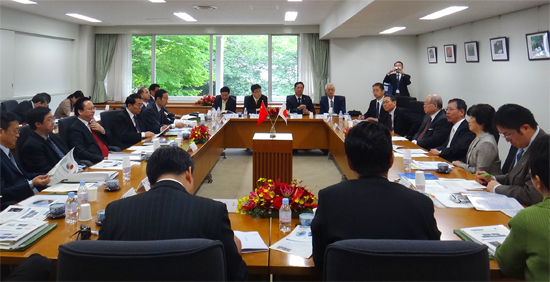 Discussions with the delegation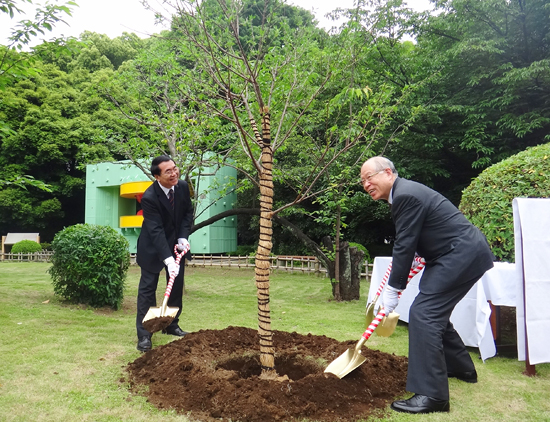 The tree-planting ceremony