A micro experimental satellite was named after Dr. CHEN Jiayong, professor of Institute of Process Engineering (IPE), Chinese Academy of Sciences (CAS), Member of CAS, to honor him for his personality, innovation, achievement, and dedication in the career of research and development in the field of hydrometallurgy and chemical engineering. This is the first time that a satellite was named after a Chinese scientist.
The scientific experiment project onboard "CHEN Jiayong-1" was jointly researched and designed (R&D) by Spacepharma Israel Ltd, Spacety China Ltd., IPE, CAS, and Institute of Mechanics (IM), CAS. Satellite "CHEN Jiayong-1" is an entirely commercial one with low cost and short development period. The R&D group takes less than one year to complete the design, verification and launch preparation. The satellite will be launched on February 8-10, 2017 in India. The project has opened a new, practical and sustainable cooperation mode between commercial space technology and application-oriented scientific research.
Satellite "CHEN Jiayong-1" will provide an accessible, affordable and reliable microgravity research serving the chemical engineering study of the dispersion and coalescence in a liquid-liquid system. The microgravity experiment aims to resolve the true mechanism of liquid-liquid interaction, which is possibly distorted by gravity. The R&D group believes that "CHEN Jiayong-1" will offer a new perspective for the research in chemical engineering and create economic and social benefits.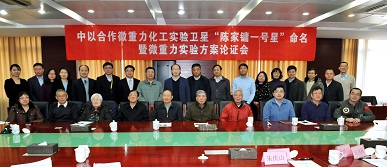 Photo of participants (Image by LI Xintao)