The compiler of a controversial list of rich alumni said the ranking helps promote entrepreneurial education at universities.
A total of 183 graduates of two universities have become billionaires in the past three decades, according to a report from cuaa.net, a website focusing on university ranking and evaluation.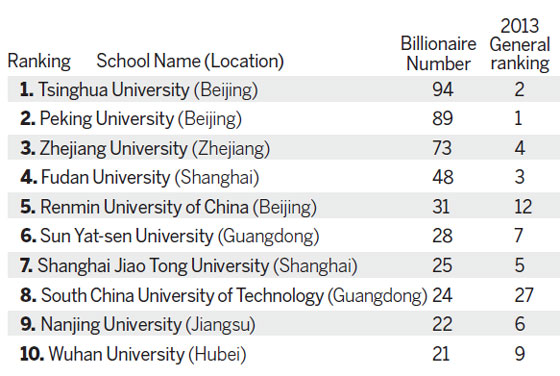 The report, released on Wednesday, showed that 94 billionaires graduated from top-listed Tsinghua University, while Peking University ranked second with 89 billionaires.
Some Web users said ranking universities by the number of rich alumni is insulting as universities are symbols of academia and knowledge.
"It is ridiculous to link the quality of the university with the ability to produce rich people," a netizen said.
But the complier of the list said it actually respects knowledge as the list tells people that knowledge could make money.
"We've received a lot of criticism since 2005, when we published the first report," said Zhao Deguo, the chief editor of cuaa.net, who is in charge of the report.
"I hope the report can show that private business owners and entrepreneurs make great contributions to society, and change the stereotype of doing business in China. It is not certain that a scientist is more useful to society than a private business owner," Zhao said, adding that it is time for Chinese people to change their attitudes toward private entrepreneurs.
"Being a professor is not necessarily superior to being a private business owner. The only difference is their career choice," Zhao added.
"Peking and Tsinghua are the best universities in China, which also produced the most rich people."
Since reform and opening-up began in 1978, Chinese colleges have striven to foster entrepreneurial qualities and have produced more than 1,700 billionaires, 62.9 percent of the number of billionaires listed as China's private business owners between 1999 and 2012.
Cai Yanhou, a professor at Central South University, believes that the advanced entrepreneurial education and atmosphere at Peking and Tsinghua produce rich alumni.
Zhao Deguo agreed and hoped the ranking list will encourage universities' entrepreneurial education.
Education authorities required universities to offer basic entrepreneurial courses to all undergraduate students in 2012, to encourage grads starting business after graduation.
Duan Huaqia, an executive management professor at Anhui University, said entrepreneurial education should be encouraged.
"It is necessary to provide training to create an entrepreneurial atmosphere and awareness in the ivory tower," Duan said.
Zhao agreed, saying that though entrepreneurship is too broad to teach, it is necessary to establish courses such as taxation, business law and business ethics.
"The universities' job in entrepreneurial education is to build up students' civil responsibility, and to let them know how to become disciplined and law-abiding business owners," Zhao said.
He gave donations from alumni as an example of civil responsibility.
The report includes alumni's donation ranking. It shows that these rich people have made the majority of alumni donations to their alma mater.
The report also shows that from 1990 to 2012, Chinese universities received large donations — as much as nearly 7.38 billion yuan ($1.19 billion) — and 13 universities received more than 100 million yuan each.
Peking ranked first, receiving 1.25 billion yuan, while Tsinghua ranked second with nearly 1.15 billion yuan.
Wang Jiwu, CEO of China Private Ventures, a billionaire who graduated from Tsinghua, has donated 10.5 million yuan to the university since 1999.
"I'm giving money to my special family — the university," Wang said. "I spent my youth on this campus, and had a strong affection for my 'brothers' and friends."
Zhao Deguo, the chief editor, said: "Top universities are not an ivory tower to produce nerds, but a place offering students multiple career choices. For example, those with great interest in entrepreneurship can acquire business knowledge and skills from their college education."