The Institute of Process Engineering (IPE), Chinese Academy of Sciences (CAS) celebrated its 60th birthday with hundreds of alumni and collaborators through a series of celebration and academic activities in September.
IPE has previously known as the Institute of Chemical Metallurgy (ICM) was founded on October 1, 1958 and renamed as IPE in 2001. It proposed the Three-High-Theory making breakthroughs in resources comprehensive utilization technology and set up new fields of particle science and computer chemistry in 1960s. In the following decades, its research objective has been broadened from chemical metallurgy to process engineering, including energy, bio-chemical engineering, materials, and green and environmental engineering.
For China's sustainable development, over the past 60 years, IPE have filled in many gaps in the development of modern chemical engineering and metallurgy, and it shows no signs of slowing down. IPE inaugurated the mesoscience, built the earliest virtual process engineering platforms in the world, realizing one-step amplification of scientific achievements from lab-scale to industrialization with groundbreaking process amplification technologies. The non-conventional sub-molten salt medium theory and the new techniques of gas-solid fluidization reactors have been applied to the strategic mineral resources in China, increased the utilization efficiency by 30%, reduced the energy consumption by 20%, eliminated the three wastes from the very sources and achieved clean production. The ionic liquids technology has been applied in the production of basic raw chemical materials, completely abandoned the use of highly toxic and corrosive acids and alkalis, and reduced wastewater emission by more than 70%. The new method for design and large-scale preparation of functional powder materials has been widely used in many areas such as national defense, electric power, and chemical industry and so on. Magnetic separation and other green process technologies have also been developed. The industrialization of straw refining for fuels and chemicals greatly reduced the production cost. The development of uniform-sized nano/micro-biochemical chromatography medium, and the new membrane reaction equipment have broken the monopolization of foreign technologies in China. The industrialized technologies of harmless treatment of coking wastewater and industrial organic pollutants have been widely adopted. The breakthrough in coal pyrolysis and decoupling combustion technology has reduced NOx emissions by more than 30%, which solved the combustion pollution problem of small- and medium-sized boilers. Now, IPE has cooperated with enterprises such as PetroChina, Sinopec, Shenhua Group, Chinalco and Wanbao Mining to set up more than 100 demonstration projects and production lines in China and the Belt & Road countries.
Today, IPE has established partnerships with many world renowned universities and institutions and has successfully implemented research projects with a number of fortune-500 international enterprises. IPE also takes a proactive role in expanding its channels for international cooperation and makes great efforts in exploring the new international platforms, including CAS-TWAS Center of Excellence for Green Technology, International Panel of Mesoscience and International Green Technology Association.
"In the coming months and years, IPE will cultivate high-end new business models of process engineering that are green and smart, making more contributions to building our nation a beautiful one," IPE Director ZHANG Suojiang said.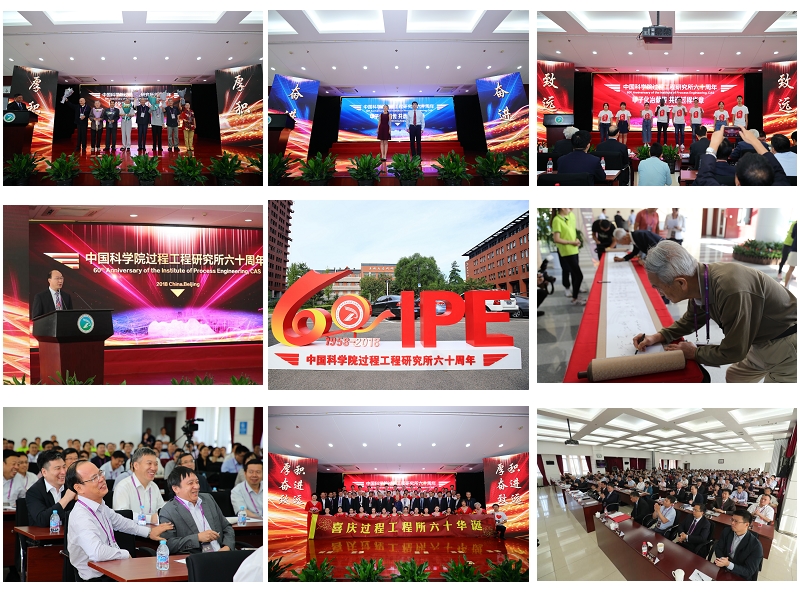 IPE celebrates its 60th anniversary on September 16-17, 2018 in Beijing. (Photo by IPE)
Media Contact:
LI Xiangyu
International Cooperation Office, Institute of Process Engineering, Chinese Academy of Sciences, Beijing 100190, P. R. China.
E-mail: xiangyuli@ipe.ac.cn
Tel: 86-10-62551358