Domestic carmakers have edge in global race: experts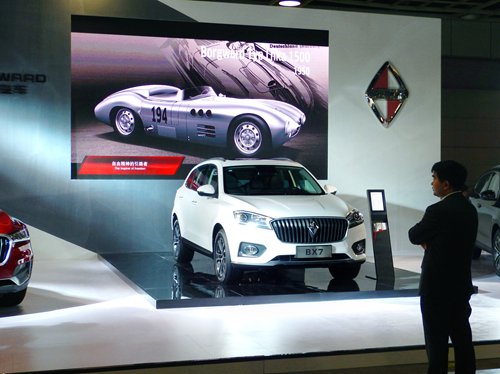 A visitor looks at a new-energy vehicle at an auto show in Nanjing, capital of East China's Jiangsu Province on November 21. (Image by VCG)
The booming Chinese market for new-energy vehicles (NEVs), boosted by government policies, is fueling a global hunt for lithium, a silvery-white metal that is vital for making electric cars batteries.
As Chinese companies started earlier than their foreign rivals to occupy the industry's upstream, the country may have an edge in the global race to produce NEVs, experts said. But they added that domestic players still lag behind Western competitors in terms of technologies to improve batteries' energy density and they need to address that gap.
"The lithium battery is a key part of electric cars because limited NEV battery capacity has long been a constraint to the vehicles' driving range," Feng Shiming, a car analyst with Menutor Consulting, told the Global Times on Sunday. Feng noted that the supply of high-quality lithium ore is one of the effective ways to address the issue.
Although China only has 20 percent of the world's lithium resources, it has so far snapped up more than 40 percent of global deposits, Japan-based news website Nikkei Asian Review reported over the weekend, citing data from the US Geological Survey.
Over the past two years, Chinese companies have made deals around the world to secure abundant lithium supplies, especially in South America where half of the global lithium reserves are, according to the report.
For example, Chinese automaker BAIC Group is now talking with Chilean economic development agency CORFO for cooperation in lithium mining and battery production, news website sina.com reported over the weekend.
China's largest NEV maker BYD also plans to cooperate with local lithium producers in Chile and may even consider a direct investment to acquire the mineral there, the Nikkei Asian Review report quoted sources close to the matter as saying.
In September, Great Wall Motor agreed to buy a 3.5 percent stake in Australia-based lithium miner Pilbara Minerals, CNN reported in November. Last year, China's Tianqi Lithium purchased a 2 percent stake in Chile's SQM, one of the world's top miners of lithium, said the report.
These acquisitions have driven up lithium prices.
In mid-November, the benchmark China net lithium carbonate price hit 159,000 yuan ($24,041) per ton, a new record high, according to data from industry website IndexMundi.
Experts said that domestic players' pursuit of lithium is being driven by China's fast-expanding NEV market, as well as government policies and regulations such as subsidies for purchasing NEVs.
In 2017, a total of 700,000 NEVs are estimated to be sold in China, and the number is expected to reach 7 million by 2025, according to a plan the Chinese government unveiled in April. That would translate into a market for NEV batteries close to 6.6 trillion yen ($58.8 billion) by 2025, up from 1.4 trillion yen in 2016, according to a report by research firm Fuji Keizai.
In contrast to domestic players, Western electric carmakers have been slow in tapping the lithium market, which signals that "they may be left with an industry supply chain that is dominated by Chinese firms within several years," Zhang Zhiyong, the founder of Wenfeng Automobile, told the Global Times on Sunday. "China has an overwhelming edge in taking up the crucial upstream resources for producing NEVs," said Zhang.
But that does not equate to ultimate success in the NEV global race, experts stressed.
"In terms of the research capability in battery energy density ... Western competitors such as US-based Tesla still have a competitive advantage… and that's where Chinese firms should make future investments," Feng said, while also urging domestic automakers not to aim for quick successes and bigger volumes.
"But at least, it's fair to say we are positioned at the same starting line as Western rivals in the NEV sector, a scenario we could not have imagined when oil-powered cars boomed just years ago," Feng noted.
(Source: Global Times)